Mooney's Plumbing (N/HO/S/O)

| | |
| --- | --- |
| The "O" Scale Mooney's As Shown Above & To The Right | |
There are two (2) versions of this structure,
the "O" & "S" scale versions were modified
a little because of size restraints.
This is a small but HIGHLY detailed structure..
not for the novice !
Available in N-HO through your local retailer.
S & O guys can use our online ordering system
or contact one of our Bar Mills "Select" dealers !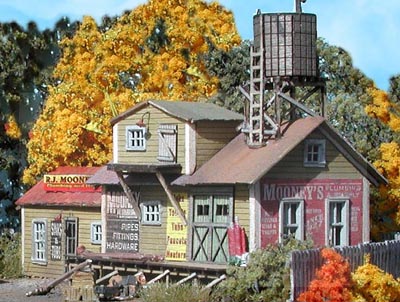 Even the N-Scale version comes complete with everything
you need to build an eye-catching
foreground model !
N-Scale Model Pictured On The Left